Arai is the only company offering multiple interior-fit shapes to better address the infinite variety of riders' head shapes and sizes.
No one pays more attention to the subtle variations and infinite possibilities of the human head shape than Arai. Why? Because it's the secret to getting the best comfort and fit.
And Arai is nothing short of obsessed with putting you into the best fitting, most comfortable helmet possible – because that´s who we are.
The RAM-X has Arai's INTERMEDIATE OVAL (IO) interior fit shape.*
*A Helmet needs to be tried on in order to determine a proper fit.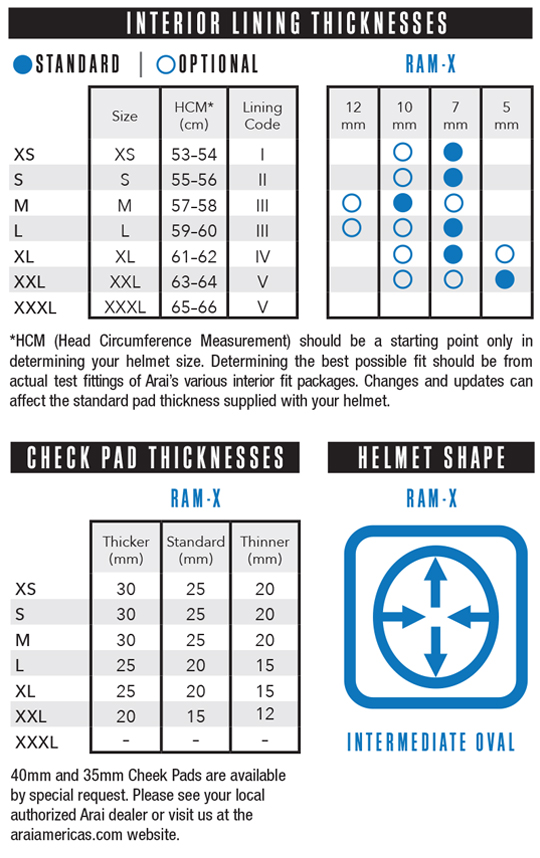 COMPLETELY REDESIGNED SHELL AND SHIELD SYSTEM
The RAM-X features the newly developed VAS-Z shield system, with a lower pivot point that allows the shell to be smoother in the temple area improving the helmet's ability to slide more smoothly should it contact the ground or obstacles, contributing to gains in protection. This lower pivot position is possible due to the dual-pivot assembly, creating a "Variable Axis System" for which the system was named, allowing the shield to function where a single pivot could not.
HIGH-TECH, ONE-PIECE, MULTI-DENSITY LINER INSIDE.
A fundamental Arai feature has always been the One-Piece, Multi-Density Liner. Molding all of the EPS densities into a one-piece EPS liner allows the various densities to work together during an impact. This allows Arai to make a thinner and softer EPS liner for a smaller overall helmet.
VENTILATION
Utilizing the same diffusers as Arai's flagship Corsair-X model, with a revised stationary aero stabilizer wing to improve helmet stability and further reduce rider fatigue.
LIGHTER
Weight reduction was achieved by decades of continual strengthening of the shell and a newly developed Z-compound resin combining multiple resins into one.
PRO SHADE SYSTEM
Up, down or in the middle the new shield system adapts to many light conditions without sacrificing helmet impact absorption performance. The Pro Shade's unique design lets air pass through even at high speed.
GLASSES COMPATIBLE
Removable foam in the top of the earcup allows the arms of glasses to easily slide into the helmet. The earcups are easy to remove from the helmet and have removable covers for easy washing and access to this removable part.
VAS-Z PINLOCK LENS
The Ram-X comes with the VAS-Z shield that accepts the new VAS-Z Pinlock lens. The new Pinlock-120 lens comes with the helmet in the box and ready to install. The Pinlock-120 is Pinlock's fog resistant lens meant for the most extreme weather conditions.