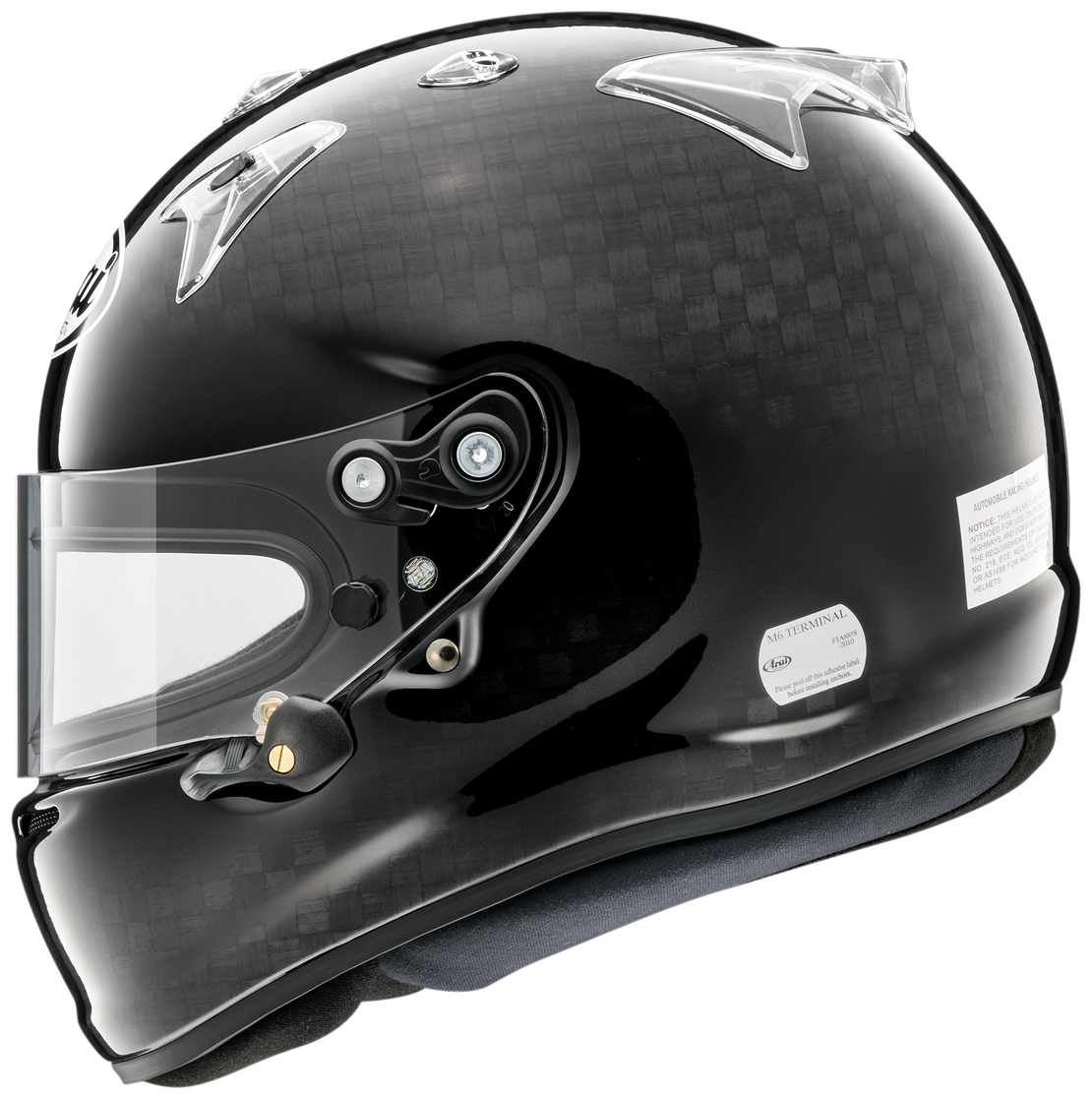 The new GP-7SRC ABP is a stunning example of Arai's vision and technological mastery engineered into a functional, real-world piece of safety equipment. It begins with a startling advancement: a proprietary Carbon Fiber (CF) weave that combines CF's existing benefits of high strength and extreme light weight with a major added benefit that standard CF does not possess: flexibility. (Standard CF tends to splinter or shatter instead of flex on impact.) The result is a helmet ready for the unparalleled demands and requirements of high end closed cockpit racing. One whose remaining list of features and advances is impressive because, for this helmet and its prospective user, it simply has to be. The GP-7SRC ABP meets or exceeds the FIA 8860-2018 ABP Standard.

POSITIVE SHIELD LATCH
Positive latch mechanism provides Solid shield latching, while allowing normal operation of the shield. Designed to be an integral component of the shield system and function, not just an add-on afterthought. The simplicity of the function masks the complexity of the design.
NEW SHIELD PIVOT HARDWARE
New shield pivot hardware, with new one-piece track slider and screw hardware that is adjusted with a T-20 torx screw. This allows the pivot point of the shield opening to moved downwards on the shell to give the shell more area for Glacning Off Shield.
NEW FCS CHEEK PADS
For the GP-7SRC the cheek pads are scuplted to grip the lower jaw of the driver more securely. This feature was highlighted by our F1 drivers as they feel the helmet encapsulates thier head better and also reduces outside wind noise.
VENTILATION
Three large, closeable, intake vents combined with larger 10mm holes and two aditional exhaust vents in the center of the helmet greatly increase air flow. While a redesigned exhaust cowling improves aerodymaics and hot air escaping the helmet. Note: The GP-7SRC comes with all vents unattached so you can customize the vent configuration depening on your specifics needs.
M6 ANCHOR TYPE
Integrated seats to accommodate a variety of Head and Neck Restraint devices. Pre-Installed M6 threaded washer/nut, with 6mm threads, to accept a variety of anchors systems for variety of Head and Neck Restraint devices and make installation much easier for people not familiar with such installations. Flat surface area around the mounting nut to allow the anchor post base to rest flush with the helmet surface around the entire perimeter of the anchor base.The GP-7SRC come standard with the HANS Clips installed.
Racing Carbon Shell
Proprietary Carbon Fiber material and weave provide an extremely strong, yet flexible material, which helps impact energy management. Multiple reinforcing materials are used to improve performance and keep weight and size to a minimum.
E-JECT READY CROWN PAD
Pre-cut pocket, under crown pad, can be easily removed to accommodate optional E-Ject(R) system.
Built-In Intrusion Panel
The GP-7SRC ABP is the helmet for open cockpit race cars. The new ABP incorporates the external intrusion panel, previously mounted to the shield, is now integrated into the helmet shell itself