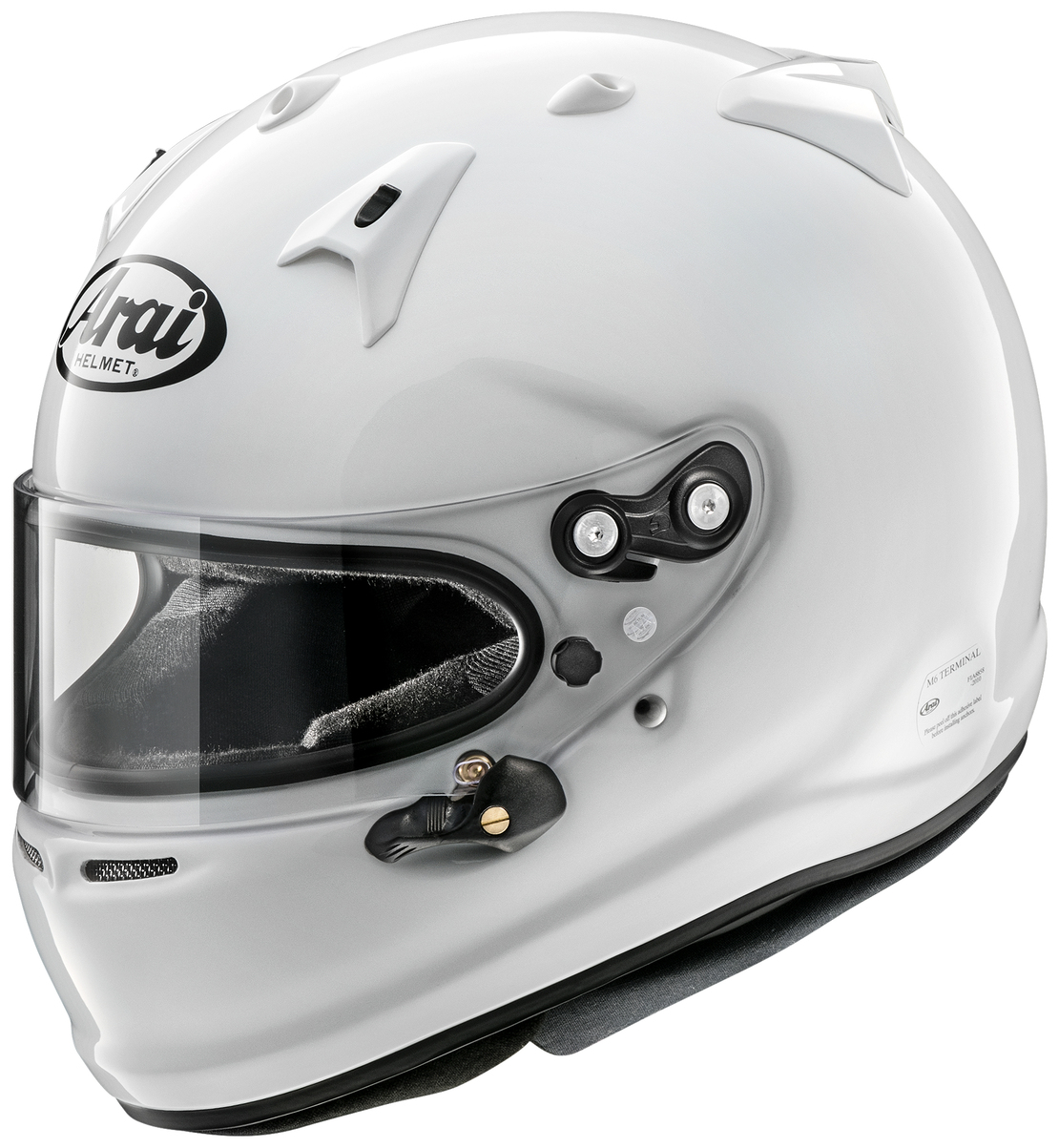 Simply put, it's hard to imagine a better racing helmet. Combine Arai's proprietary, groundbreaking PBcLc (Peripherally Belted Complex Laminate) shell construction -- the same shell shape as the F-1-grid's GP-7SRC model; more enhanced sculpting of the cheek pads; new ventilation; and on and on – and you get the striking new Arai GP-7. The new shell gives you incredible strength and flexibility, and that strength allows Arai to use an extremely soft EPS liner that's so comfortable it'll make you think more about a nap than a race. Right until you strap in, that is. The cheek pads are replaceable for a more personal fit. Up top, the ventilation system is greatly improved with three larger, closeable intake vents, plus four larger exhaust cowls.

POSITIVE SHIELD LATCH
Positive latch mechanism provides Solid shield latching, while allowing normal operation of the shield. Designed to be an integral component of the shield system and function, not just an add-on afterthought. The simplicity of the function masks the complexity of the design.
NEW SHIELD PIVOT HARDWARE
New shield pivot hardware, with new one-piece track slider and screw hardware that is adjusted with a T-20 torx screw. This allows the pivot point of the shield opening to moved downwards on the shell to give the shell more area for Glacning Off Shield.
NEW FCS CHEEK PADS
For the GP-7SRC the cheek pads are scuplted to grip the lower jaw of the driver more securely. This feature was highlighted by our F1 drivers as they feel the helmet encapsulates thier head better and also reduces outside wind noise.
VENTILATION
Three large, closeable, intake vents combined with larger 10mm holes and two aditional exhaust vents in the center of the helmet greatly increase air flow. While a redesigned exhaust cowling improves aerodymaics and hot air escaping the helmet. Note: The GP-7SRC comes with all vents unattached so you can customize the vent configuration depening on your specifics needs.
M6 ANCHOR TYPE
Integrated seats to accommodate a variety of Head and Neck Restraint devices. Pre-Installed M6 threaded washer/nut, with 6mm threads, to accept a variety of anchors systems for variety of Head and Neck Restraint devices and make installation much easier for people not familiar with such installations. Flat surface area around the mounting nut to allow the anchor post base to rest flush with the helmet surface around the entire perimeter of the anchor base.The GP-7SRC come standard with the HANS Clips installed.
E-JECT READY CROWN PAD
Pre-cut pocket, under crown pad, can be easily removed to accommodate optional E-Ject(R) system.
Drink System Compatibility
For the GP-7 the chin liner is now more easily removed to install a drink tube into the chin liner. The chin liner comes standard with 4 different drink hose placements